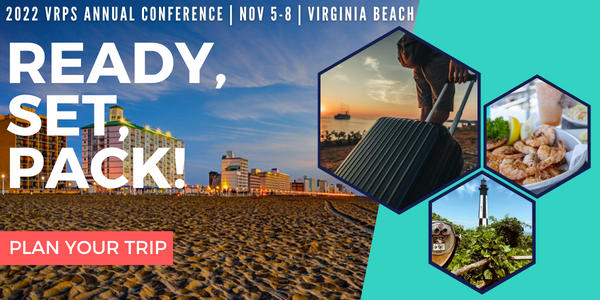 Virginia Beach or Bust!
You're booked! Now it's time to plan your trip -- packing suggestions, explore things to do
and dining options, review the educational sessions, get hyped for the social events, exhibit
hall activities, sign up for volunteer opportunities, and more.
And, if you didn't register as a full delegate, enhance your experience by playing in the golf
tournament and purchasing tickets to the pre-conference tour, exhibit hall lunch, awards banquet,
socials, and the Director's Forum. 
IMPORTANT REMINDERS:
Name badges

 

should be worn at all times during the conference
Credit/debit cards

 

ONLY at bars during social events and awards banquet
(cash tips accepted);

 

ID

 

required for alcohol
Carpooling

 

is highly encouraged as parking is limited in the hotel garage
Sign up to volunteer

 

and assist with conference operations
Refer to the

 

conference app

 

for just about EVERYTHING

 

(coming soon)!
CONFERENCE APP:
The conference app is NOW AVAILABLE! Free and available for iPhone, iPad,
and Android users, all conference details are now at your fingertips with the
2022 VRPS Annual Conference mobile app. Click here to access the app and other details.
PLAN YOUR TRIP:
In general, conference attire is business casual. See below for suggestions.
Pre-conf tours: casual attire; comfortable shoes
Awards banquet: dress it up a bit
Social events: casual attire; jeans acceptable
Monday night social: wear your finest Hawaiian, floral, or beach-inspired shirt
Weather: November weather at the beach can be chilly, so bring a jacket and other
warm apparel. Check the weather forecast before you go! 


REGISTRATION SCHEDULE:
Attendees and speakers can visit the registration desk to pick up conference bags and badges during the
hours noted below. Badges should be worn at all times during the conference. See full conference schedule.
Sat., Nov. 5, 2 - 5pm @ Marriott

Sun., Nov. 6, 7:30am - 5pm @ Marriott

Mon., Nov. 7, 7am - 4pm @ Virginia Beach Convention Center


Tues., Nov. 8, 7:30 - 11am @ Marriott
TRANSPORTATION:
Carpooling is highly encouraged as parking in the hotel garage is limited. See bus schedule below for
pre-conference tours and Aquarium social along with parking details at the Marriott and Virginia Beach Convention Center.
Marriott: Garage parking @ $2/hr.
Convention Center: Free parking; Park near Halls B & C to access Meeting Suites 2-3
Sat., Nov. 6 | Pre-Conference Tours:


Buses depart Marriott at 12pm and return to Marriott at 5pm

Mon., Nov. 7 | A Night at the Aquarium
Bus departs Marriott at 7pm; Last departure from Aquarium is 10:30pm
EDUCATIONAL SESSIONS:
Stay on trend with this comprehensive collection of 50+ educational sessions presented by over 60 nationally
renowned speakers and industry peers.
Full Schedule | Featured Presenters

KEYNOTE, ACTIVITIES, & SOCIALS:
Enhance your experience and purchase additional tickets to the following events:

Fri., Nov. 4 | Golf Tournament | Sign up
Sun., Nov. 6 | Keynote Speaker, Aaron Rouse | See Bio

Sun., Nov. 6 | A Night at the Aquarium | $30

Mon., Nov. 7 | Director's Forum | $30

Mon., Nov. 7 | Awards Banquet | $60

Mon., Nov. 7 | Beachin' It Closing Party | $30
EXHIBIT HALL FEATURING THE CONFERENCE CHALLENGE:
Mon., Nov. 7 | 12:30-4:30pm | Virginia Beach Convention Center
#NotYourOrdinaryExperience
It's #notyourordinaryexperience in the exhibit hall to network with suppliers and vendors, and get ready for
some fun and games including a live auction, axe throwing, Minute to Win It, Modern Line Dancing lessons,
a cash bar (credit/debit cards ONLY; cash tips accepted; ID required for alcohol), and more.

Live Auction: 
Join us for a live auction in the exhibit hall featuring exclusive items up for bid including NASCAR tickets donated
by Musco, signed NFL memorabilia, Kings Dominion and Busch Gardens tickets, golf and brewery gifts, and much more!
All proceeds from the auction support the Foundation of VRPS whose goal is to provide scholarships for students and
professionals seeking further education or professional development opportunities, as well as supporting, other VRPS
trainings and events.
Share the VRPS Live Auction catalog with fellow staff members, friends, and family. If they're interested in an item(s),
bring their bid with you to conference and bid on their behalf.
See Auction Catalog